Welcome to my page!
I've been a leading member of Majisuka Gakuen wiki since 2012, and this is the first wiki that I edited. I became aware of AKB48's existence in early 2011. When I first watched Majisuka Gakuen 1, I still knew very little about the group. My love for the drama furthered my familiarity with AKB48 and its members. Please check out my profile on the AKB48 Wiki!
Thoughts about Majisuka Gakuen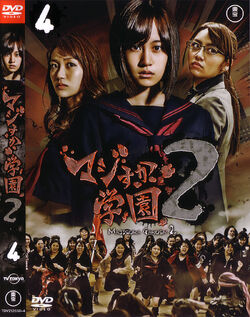 The first installment of the Majisuka Gakuen series really could be called the pilot. It had a simple plot where the hero encountered a series of friends and foes, on the way to the final battle. I think that overall it probably was the best of the whole series. Even though it could have done without unrealistic elements like Torigoya's abilities, the story was straightforward and sometimes touching. Majisuka Gakuen 2 had much better cinematography, some improved fight scenes, and more plotlines. The acting was mostly better than in the first season, but the plot seemed shakier. It would have been better if Shibuya's motivations had a clearer purpose. With the final battle between the two rival schools wrapping it all up, it was much less open-ended than the first season finale.
The third season introduced a new concept and many new actors. There was some rather rough acting, and definitely some confusion in the storyline. Again, the motivations of the antagonist probably should have been presented in a different way. But I still think it was pretty engaging, because of some stand-out acting and an overall interesting storyline. The fight scenes were a slight improvement over the second season. After Majisuka Gakuen 3 introduced a new setting, I figured that the prison storyline would be continued from then on. But whether it was because members had graduated or they just wanted to bring the school setting back... Majisuka Gakuen 4 ended up in a possibly alternate universe to the setting of the first and second seasons. That was a pretty bad choice, because it had so many plot-holes and unanswered questions. Also, the season intentionally repeated a lot of elements from the original Majisuka Gakuen. But despite the weaknesses of the plot, it actually managed to turn out decently enough. The fight scenes were of an incredibly improved quality compared to the other seasons. Maybe the writers tried to compensate for the crossovers by adding in a multitude of longer and better fights.
My future hopes for the series is actually a wish for a new storyline, moving away from the confusing cross-overs of season four. I hope to see Nogizaka46 members appear as rivals of AKB48 in Majisuka Gakuen 5. No matter what happens in the future MG series, the series has and will probably continue to benefit AKB48. Not only did it introduce a lot of the 48-group members to acting, it also showed which of them had more potential. The few breakout characters, like Gekikara in season 1, actually defined their actresses in real life as well. The series is also a way for management to promote certain members, and even certain 48-groups. Even though most of the original cast of Majisuka Gakuen is now gone, I hope the series will live on into the future.
My favorite AKB48 member is the now-graduated Akimoto Sayaka, who played Choukoku. Her portrayal of the martial arts expert was flawless, as she was the only member of the cast with a black belt. Katayama Haruka, a close second to Sayaka in my AKB48 favorites, also had a role in seasons 1 and 2. She and Nakaya Sayaka, another ex-AKB48 girl that I love, both played members of Team Under. My favorite member of HKT48, Murashige Anna, was the first member of the group to have a main role in the series. She really busted out her Russian ability while playing Jovijovich in Majisuka Gakuen 3.
About Me
I live in the United States, and I'm fluent in Russian. Aside from editing wikis, I spend a lot of time on Youtube and Tumblr. I enjoy writing poetry, roleplaying, and reading fanfiction. I'm a fan of Harry Potter, Star Trek, and the Marvel comics movies. Also, I like to occasionally watch anime and read manga. My eternal favorite among anime series is Scrapped Princess. Sometimes I watch Japanese and Korean dramas, and variety shows in both languages. The reality show Unpretty Rapstar made me interested in Korean hip-hop. Recently I've became very interested in Unpretty Rapstar, and similar Korean shows. UR also made me a fan of Lucky J's Jessi and Tymee. My favorite Korean groups are Brown Eyed Girls, f(x), and EXID. Aside from AKB48, my favorite Japanese artists are FEMM, Charisma.com, Doll$Boxx, and Babymetal. I also enjoy listening to instrumental music, and watching shows focused on vocal talent.
Community content is available under
CC-BY-SA
unless otherwise noted.