Sashihara Rino (指原莉乃, Sashihara Rino?)[1][2][3] was the leader of Majisuka Jyogakuen's Team Hormone as Wota (ヲタ, Wota?). After her transfer to a Shekarashika Joshishogyo in Fukuoka, she later renamed herself as Ageman (アゲマン, Ageman?) and became the 7th President of Team Dontaku. When she returned to Majijo, everyone started calling her Scandal (スキャンダル, Scandal?) due to the reason of her transfer. After Sakura succeeds in becoming Rappapa's next president, she then became an idol like Kojiharu and was still in contact with both Sakura and Katsuzetsu.
Appearance
History
Majisuka Gakuen
Majisuka Gakuen 2
Majisuka Gakuen 4
Majisuka Gakuen 0
Cabasuka Gakuen
References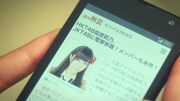 Community content is available under
CC-BY-SA
unless otherwise noted.