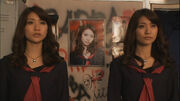 This article is a disambiguation page for Rookie
The following is a list of links to pages that might share the same title.
Please follow one of the disambiguation links below or search to find the page you were looking for if it is not listed. If an internal link led you here, you may wish to change the link to point directly to the intended article.
Rookie is the name shared by two different characters from the Majisuka Gakuen Series that were portrayed by Kawamoto Saya, in which it could refer to either:
Related Page
Ooiri - a character from the first stage musical also portrayed by Kawamoto Saya.